At Betts Garage, we have tow trucks and flatbeds sized to handle all types of hauling jobs. If you have a piece of equipment that you need hauled to a job site, or to a buyer's location, then you need Betts Garage. We have the trucks and equipment for any hauling job.
For nearly 50 years, Betts Garage has been proud to serve private, corporate and governmental customers with towing, flatbed and a host of other services. Our fleet of hauling vehicles includes, but is not limited to wreckers and flatbeds well-equipped to meet standard requirement for moving light duty vehicles typically weighing less than 10,000 GVW. Our fleet also includes one (1) 20,000 lb rollback. Furthermore, our fleet provides for heavy duty underlifts, lowboys (landoll trailers) equipped to haul:
Earth Moving Equipment
90,000 lb GVW rubber tire dozers
Tractor/Trailer Rigs
Heavy Duty Dump Trucks and plows
Wide and or overweight loads
We pride ourselves in our in meeting and exceeding client expectations for generations. Our team has the skills and equipment to handle needs related to:
Light, Medium and Heavy Duty Towing, Hauling and Accident Recovery
Hauling and Vehicle Transport
Semi Trucks
Cranes
Building Equipment and Material
Excavators
Trenchers
Forklifts
Scissor Lifts
Booms
Machinery
Tractors
Drilling Equipment
Motors Homes
Campers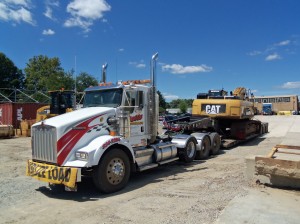 We gladly provide hauling services for these and any various other types of equipment – large and small.  Please be sure to call 302-834-2284  for more information.